Deloitte: Data Visualization Winner
2017 // Skills: Data Visualization, Stakeholder Mapping, iOS App Design
Project Brief
Developed during a 90 minute Deloitte data visualization design competition. Six teams participated from various disclipine. 
Pirmanti Bros. is a popular local restaurant. The owner has noticed that during peak business times, there are long lines. Recently, he has noticed that more people are not waiting in line. He wants to understand why they are leaving. He asked us to help one of the stores find a way to to reduce customer wait time and improve their overall experience.
We were challenged to work with data and consider what resources or information we would need for the project to complete our solution.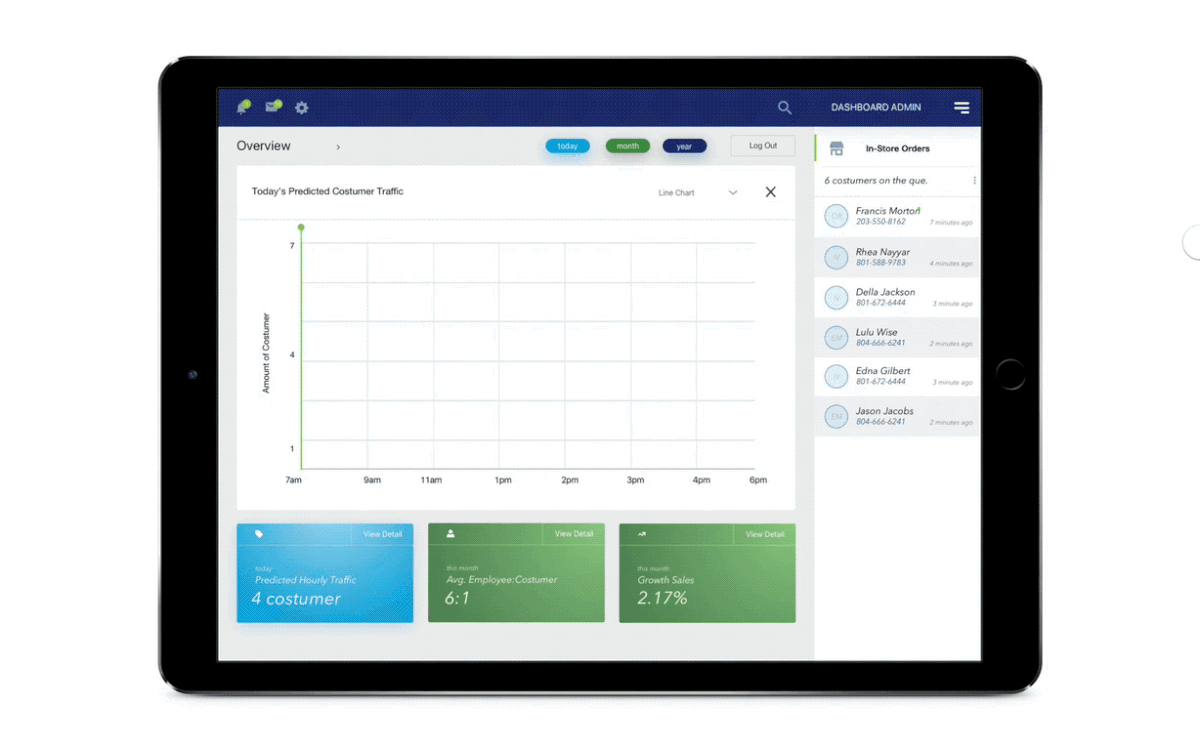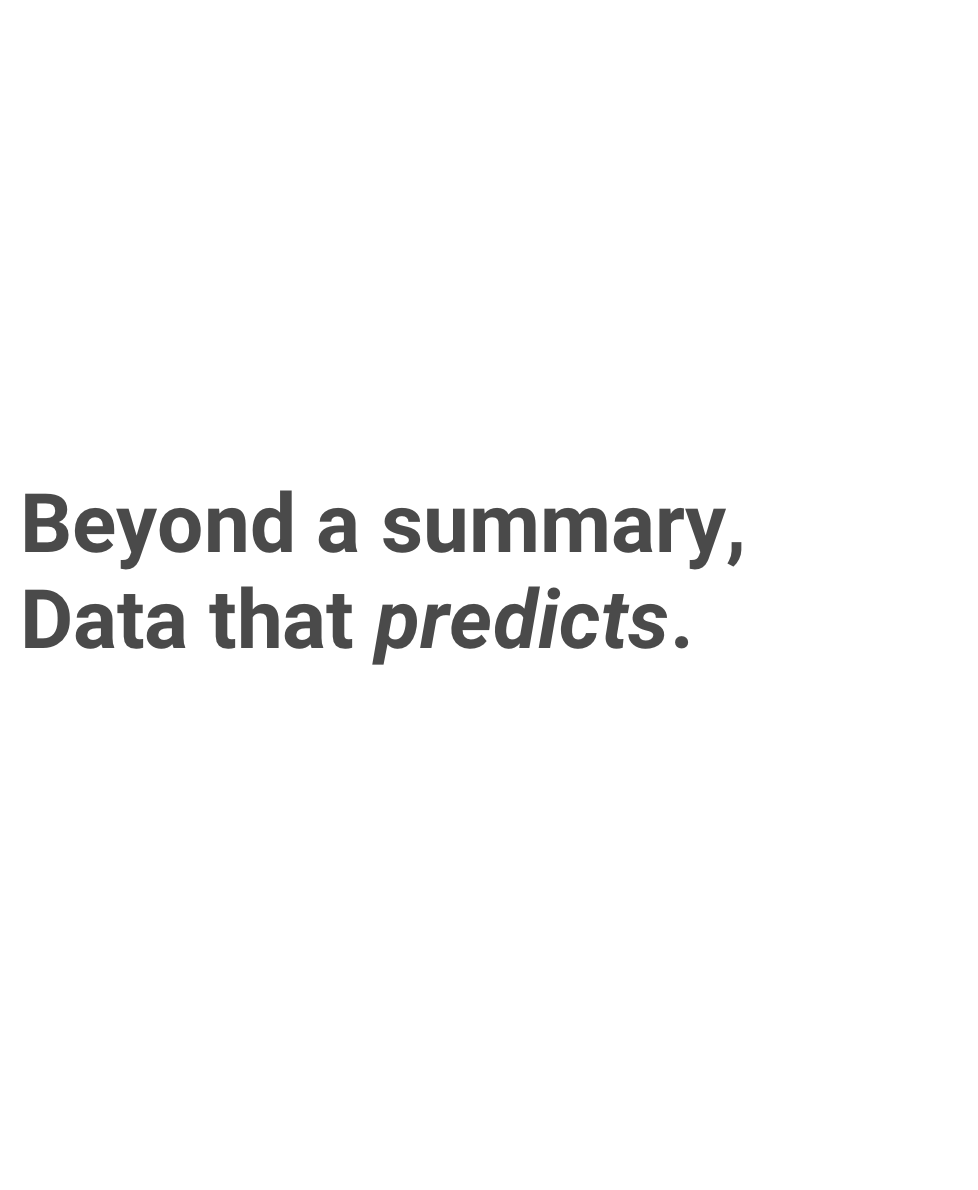 REAL-TIME AND PREDICTED DATA.
We expect that more efficient tracking of resources would not only decrease wait time experienced by customers, but also leads to machine-learning forecasts that would assist managers in making decisions. While data summaries are helpful, predictions are what will decrease the manager's cognitive load.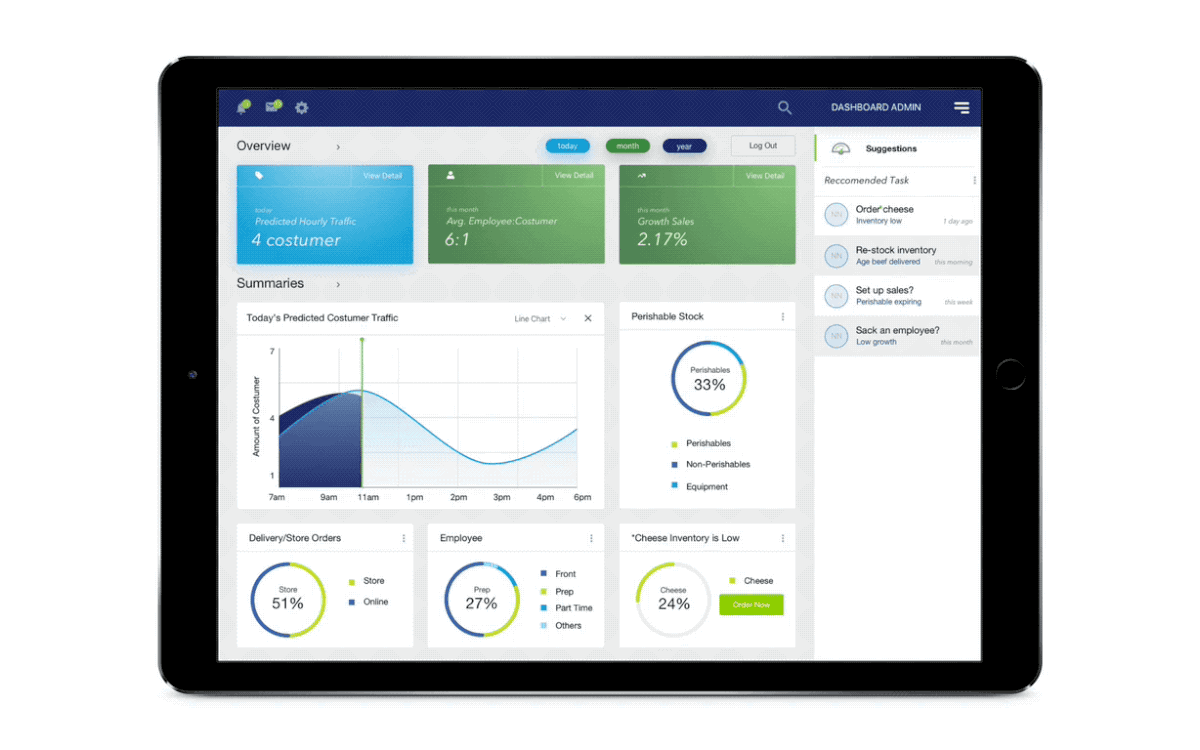 QUERY BASED DASHBOARD.
 We developed an iPad interface that would track the levels of food inventory, employees working, historical sales, and historical peak times. We integrated order now options for the manager to order even during the rush of business to ensure the product would arrive in the shortest amount of time without having spoilage or worry of running out of food during a significant peak time.
Data that you can explore.
EMPOWERING YOU WITH INSIGHTS.
While our dashboards can suggest actions, they are by no means smarter than a manager. Running a business is complex. And although our dashboard can help many managers with predictions and suggestions, our dashboard cannot replace human insights. That's why we've designed it not as a tool to replace, but as a tool to empower.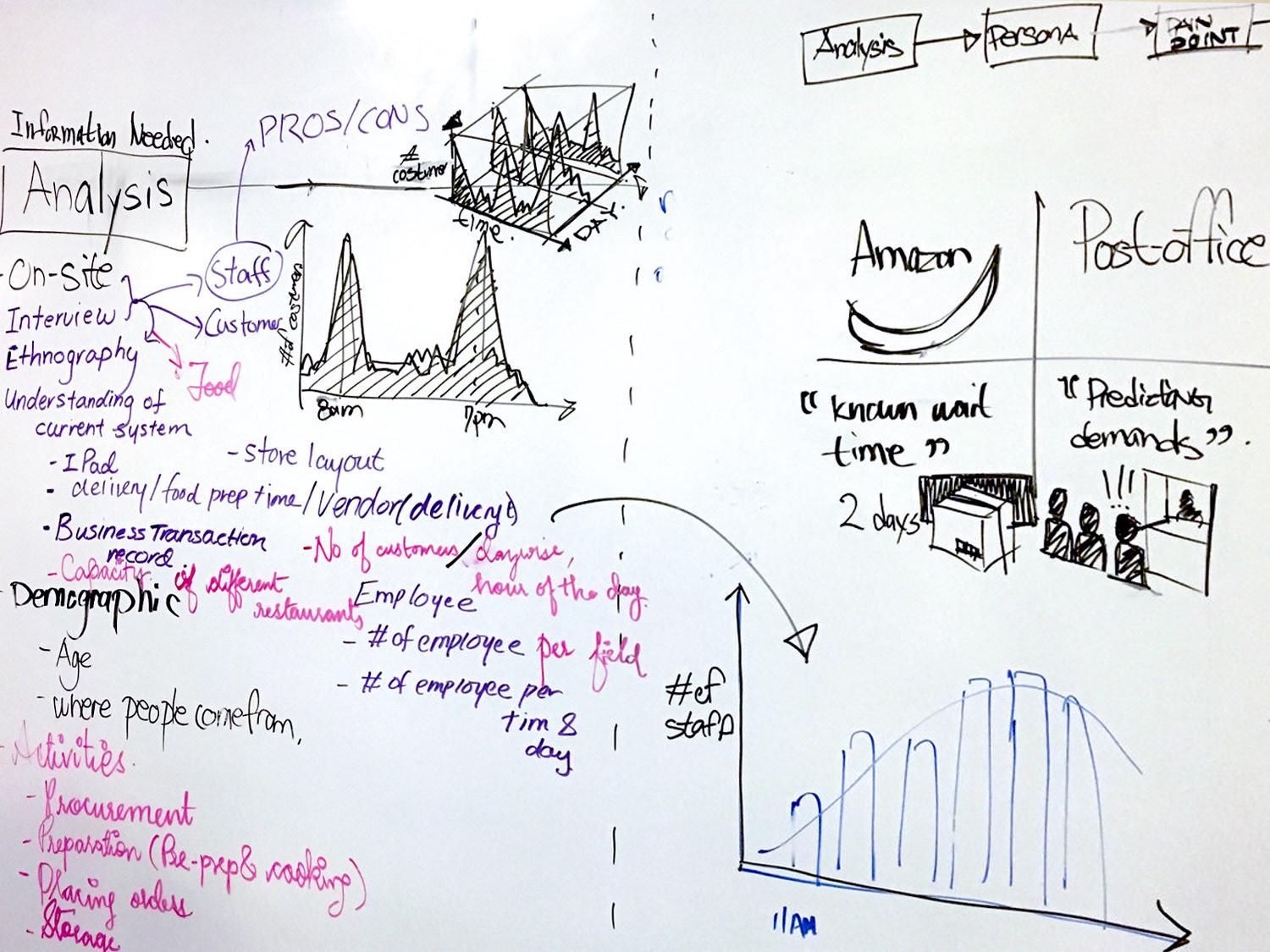 Before arriving let the dashboard idea, we recognized that we needed to understand the the needs of the customers for the store. Since serving the most number of customers and making them happy is a top priority for Pirmanti's Bros reputation and profitability, we wanted to explore
why
users got out of waiting in line: was it the time, quality of Pirmanti Bros' food, etc.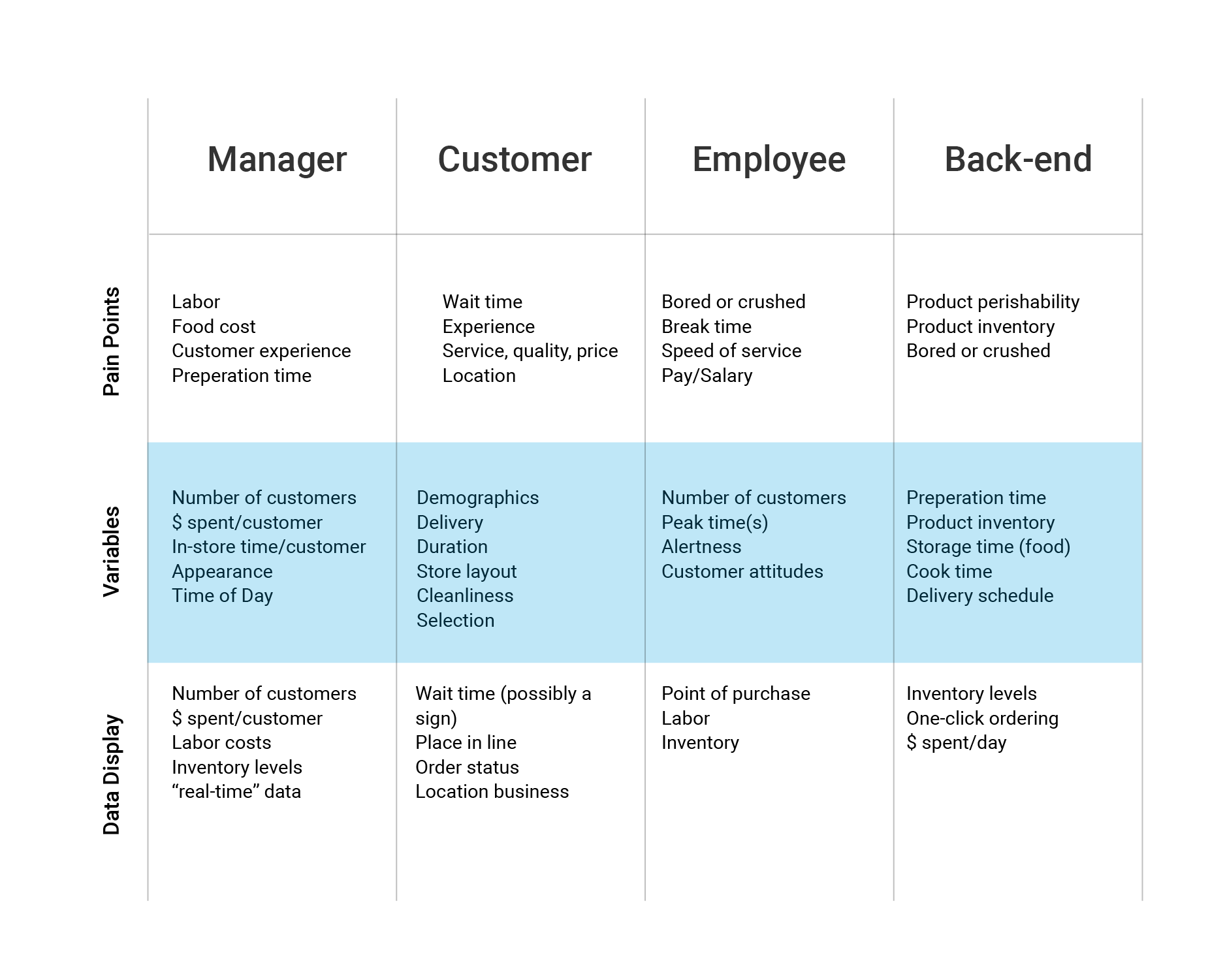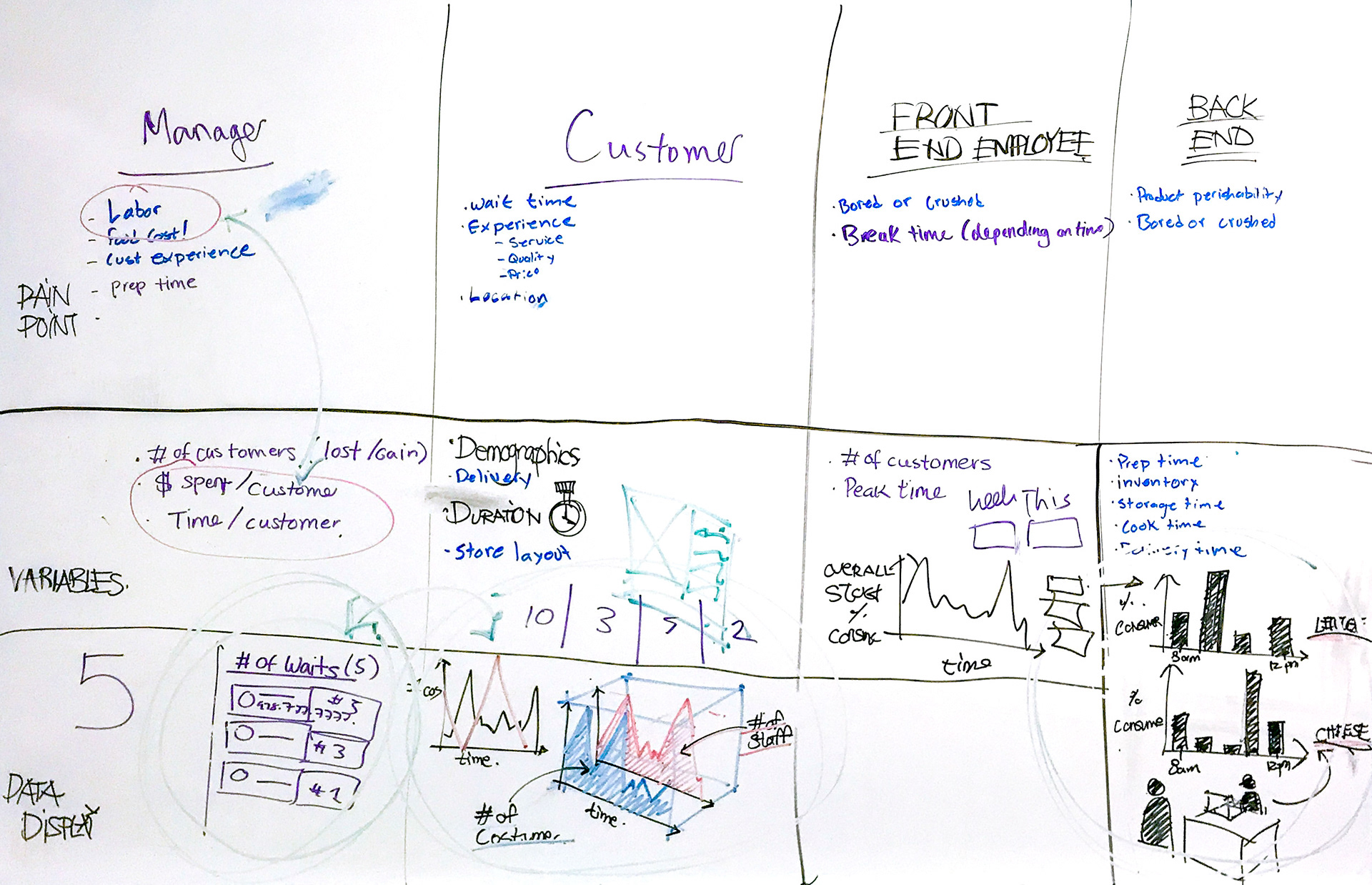 Additional Constraints
The four following constraints were added to the project after the first 60 minutes:
1. Scalable for all Primantis bros. locations
2. The design or solution must utilize an iPad
3. How to integrate a new food delivery system to the restaurant
4. Decrease human capital waste
Our initial solution centered around improving the user experience by providing updates about one's wait time. We also experimented with the idea of gathering the business of various locations, so that users could find the locations with the shortest wait time.
With the new constraints, we shifted our focus from only evaluating pain points for Pirmanti stakeholders in regards to wait times, and began to develop a complete tool to streamline business decisions.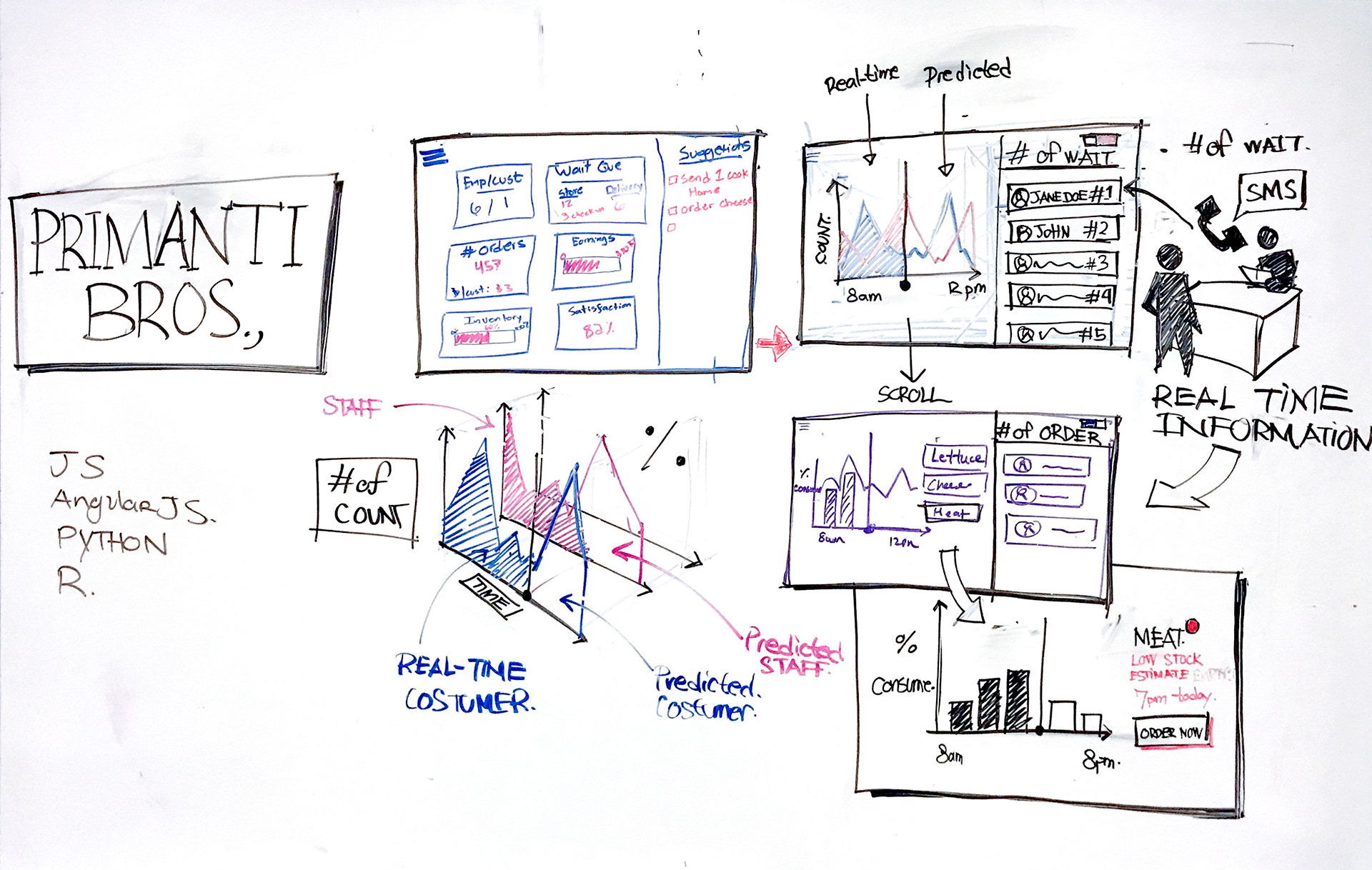 At the conclusion of the design competition, all groups presented their ideas. Our group won the competition by integrating the user-experience into the process. Our focus was on putting people at forefront of our solution and then integrating the constraints.
"We won because we didn't allow the technology to come before the people. We allowed the process and pain points to inform our solutions, not the tech."

Moving forward, we strongly recommended that the store hold user-centered design research around their experience with Primanit Bros. Due to the nature of the competition we were unable to do this research but we felt that this is an integral piece will add insight and clarity to the implementation of any plan.
Though our solution was a Primanti's Bros app that would consolidate the data and provide timely feedback on business processes, the data and coding were not the only resources we knew would be needed. Below we have listed several we discussed in our initial presentation:
    • Database code
    • JavaScript
    • Angular/React JS
    • Python
    • R
    • Cloud-based server
    • Inventory system
    • User-experience research (customer and employee)
    • Service design blueprint
    • Interactive prototype for users of the system